1. Check the ribbon balance using the left LED button on the front panel of the SMART Printer.
※ We supply extra panels on our ribbon to prepare for snapping or skipping. Even if unused panels remain
on the ribbon core, when the ribbon balance which is shown by the SMART Printer is '0', you must replace
the used ribbon with a new ribbon.
2. Check to make sure the ribbon is installed into the ribbon cartridge correctly. Please refer to SMART Printer User Manual,

the Ribbon Box and the Quick Guide in the SMART Printer Box for ribbon installation procedure.

3. If the ribbon has snapped, you can connect snapped ribbons together by using a piece of tape to connect the

ribbon again.
4. Check the condition of the Color In / Out Sensor as that may also be the reason for 'Ribbon Search Error'

If the Color In / Out Sensors are contaminated, you must clean it using soft cloth or an alcoholic cotton swab as the following pictures show.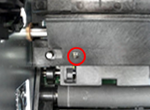 Color In / Out Sensor